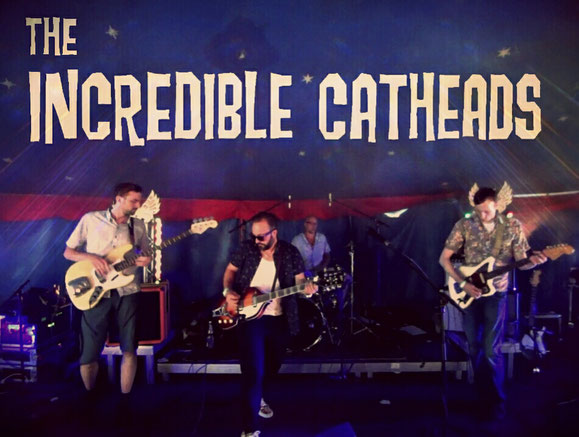 Bereits beim bloßen Zuhören spürt man die Gischt der Brandung, das Grollen der Wellen, den Geruch von Surfwax und Sonnencreme auf der Haut.
THE INCREDIBLE CATHEADS spielen wilde instrumentale Surfmusik der 60er Jahre. Ihr 2016er Debut-Album wurde von Deutschlands führender Gitarrenzeitschrift Gitarre/Bass zum Act des Monats April 2017 bestimmt und auch das britische Kult-Magazin für Rock-Instrumentalmusik "New Gandy Dancer" gibt dem Album die höchstmögliche Wertung. Im Sommer 2018 haben die Catheads mit "Locals Only" ihr zweites Album veröffentlicht.
Dass die Musik der Incredible Catheads ganz ohne Gesang auskommt, stört den Zuhörer nicht. Ähnlich wie bei elektronischer Musik geht es ums Tanzen, Abschalten und Spaß haben. Genau das hat die Band in den letzten 2 Jahren bereits bei über 20 Konzerten und Festivals in NRW – u.a. als Support der Messer Chups (RUS), der Krontjong Devils (NL) und The Okay-Men (GER) – mehrfach bewiesen.
booking[ät]incrediblecatheads[.]com